THE PROBLEM
Sometimes as a consumer it is difficult to find the right product. In a physical store you can go to the store assistant and get help or advice in your search for the right product. In the digital store, in the absence of store assistants, the search is a lot more difficult. On top of that, on large retail platforms the product range online is many times larger.
American psychologist Barry Schwartz and author of the book Paradox of Choice states that having too many choices, with its overwhelming choice overload, might give us anxiety, stress, and depression instead of happiness.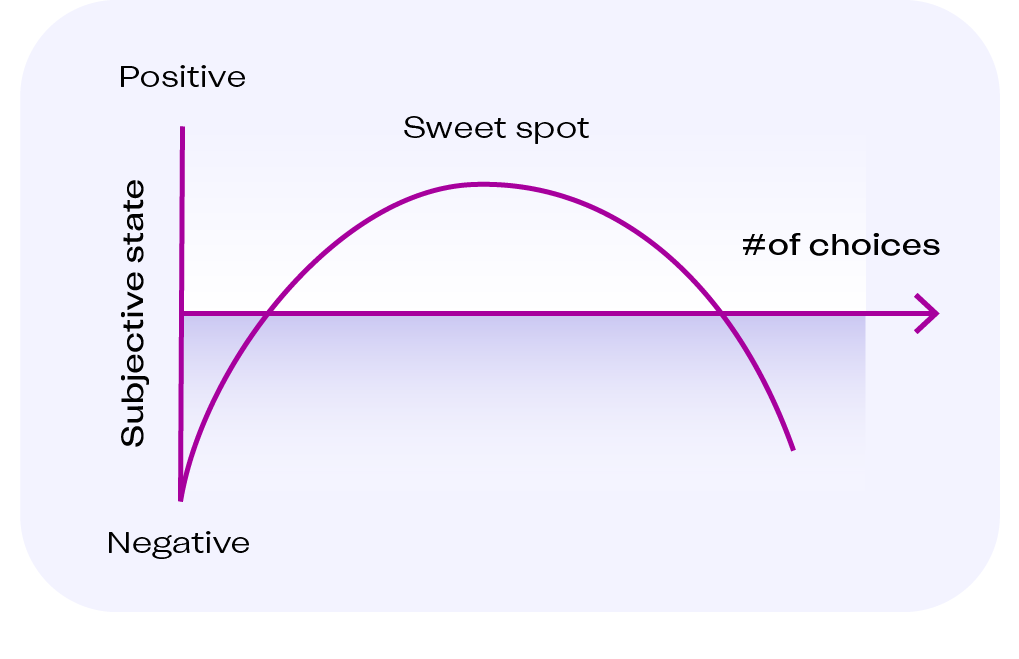 The paradox of choice explained in a graph
The more options we have, the fewer decisions we make.
I recognize this in myself. When I search for a laptop on Amazon, I get more than 10,000 results. Which one do I want? Which one fits me well? I start my search by scrolling through the results and give up after 15 minutes, with 9,900 still unseen. A missed opportunity for the consumer, the brand and the retailer.
While shoppers say they need help, they aren't too persistent in accessing it. Half of online shoppers (51%) will either try once or give up immediately when seeking help before an online purchase.
Virtual shopping assistant
A little guidance would help consumers make choices earlier and more easily. As in the physical store, personal help is also needed in online spaces.
Virtual shopping assistants are online tools that help shoppers find the products they're looking for. They work by answering questions and helping customers navigate your online store. Some virtual shopping assistants can even place orders for you! Virtual shopping assistants come in many shapes and kinds. The most scalable and accessible solution for forward-leaning brands is simply to place the virtual shopping assistant in an ad.
Below you see an example of a conversational ad acting as a shopping assistant. The advertiser asks me what I am looking for in a laptop and comes up with appropriate suggestions that fit my needs.

Example of a straight-forward shopping assistant
Several interesting things are happening here.
The advertiser stands out with the creative and places the consumer at the center by asking him about their needs. The shopper receives an appropriate proposal based on these needs, is supported in the search for the perfect laptop and can immediately add it to the shopping basket.
"What a well-designed personal shopping assistant does for the advertiser, is giving them the benefit of standing out, finding out consumers' needs, increasing conversions and improving the overall shopping experience."
Rogier Lammers | VP of Sales Central Europe | Cavai
SUMMARY
The advertisers can serve shoppers better with conversational creatives. It's important to foster positive emotions with a limited number of recommended choices, to make your products stand out in a cacophony of products and ads people are bombarded with. Supporting the shopping experience with conversational creatives not only creates positive associations with the advertiser, but also creates better outcomes for the advertising efforts.